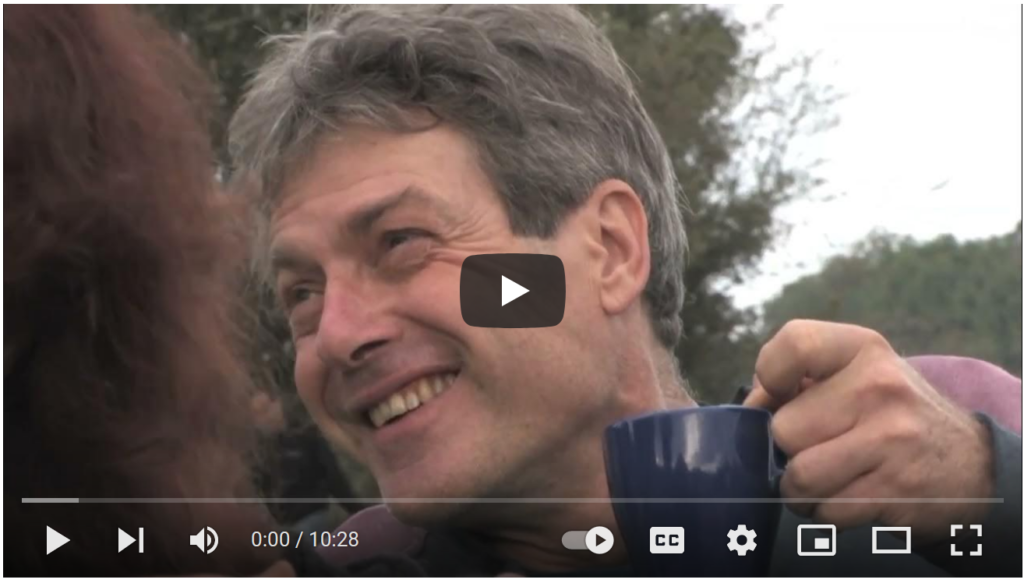 John D Liu  Ecological Restoration (10 min, video)
https://www.youtube.com/watch?app=desktop&v=hEEFXABFwrY
How could positive "tipping points" accelerate climate action?
As catastrophic climate change tipping points loom, could positive shifts toward green action also be speeding up?
https://ensia.com/features/positive-tipping-points-climate-change-solutions/
AND
Exceeding 1.5°C global warming could trigger multiple climate tipping points
https://www.science.org/doi/10.1126/science.abn7950
How will China achieve carbon neutrality by 2060? (video, 2 minutes)
Digital twins can transform agricultural production systems and supply chains, curbing greenhouse gas emissions, food waste and malnutrition. However, the potential of these advanced virtualization technologies is yet to be realized. Here, we consider the promise of digital twins across six typical agrifood supply chain steps and emphasize key implementation barriers.
https://www.nature.com/articles/s41538-022-00162-2
A Fast-Emptying Ark
The World Grows Quieter by the Day
https://billmckibben.substack.com/p/a-fast-emptying-ark
Extreme Heat Poses an Emerging Threat to Food Crops
Excessive heat directly harms bees and the plants they pollinate, but can also trigger cascading effects with potentially devastating impacts on pollination and crop yields that scientists are just beginning to study.
https://insideclimatenews.org/news/09092022/extreme-heat-food-pollinators/
Digital twins can transform agricultural production systems and supply chains, curbing greenhouse gas emissions, food waste and malnutrition. However, the potential of these advanced virtualization technologies is yet to be realized. Here, we consider the promise of digital twins across six typical agrifood supply chain steps and emphasize key implementation barriers.
https://www.nature.com/articles/s41538-022-00162-2
Still Flying Blind: The Absence of Climate Risk in Financial Reporting
https://carbontracker.org/reports/still-flying-blind-the-absence-of-climate-risk-in-financial-reporting/
What Exactly Is Regenerative Agriculture, Anyway?
https://www.mashed.com/1035724/what-exactly-is-regenerative-agriculture-anyway/
How This Solar Town Survived Hurricane Ian Shows the Promise of a Green Energy Future
The Babcock Ranch community near Ft Meyers shows building a resilient and low-carbon America will save both money and lives. We need to start now.
https://www.commondreams.org/views/2022/10/04/how-solar-town-survived-hurricane-ian-shows-promise-green-energy-future
Greenwashing a police state: the truth behind Egypt's Cop27 masquerade
Sisi's Egypt is making a big show of solar panels and biodegradable straws ahead of next month's climate summit – but in reality the regime imprisons activists and bans research. The climate movement should not play along
by Naomi Klein
https://www.theguardian.com/environment/2022/oct/18/greenwashing-police-state-egypt-cop27-masquerade-naomi-klein-climate-crisis
Cop27 protesters will be corralled in desert away from climate conference
Visitors to Sharm el-Sheikh also face extensive searches and video surveillance in taxis 
https://www.theguardian.com/environment/2022/oct/31/egypt-cop27-showcase-charms-sharm-el-sheikh-protest-mall
This campus takes "learning environment" literally
At the University of the District of Columbia, sustainable infrastructure is part of the educational experience
https://ensia.com/articles/university-district-columbia-sustainability/
Op-ed: Is There Plastic in Your Soda? Beverage Companies Must Go Beyond Recycling
It's well-known that plastics recycling is broken, but food conglomerates promising to increase recycling won't solve the health and environmental problems plastics cause at every stage of production.
https://civileats.com/2022/09/22/op-ed-plastic-soda-bottles-recycling-health-safety-beverage-industry-sustainability/
https://theintercept.com/2022/10/07/egypt-cop27-climate-prisoners-alaa/
Glass, Plastic, Or PLA? Dairies Struggle to Replace Single-Use Bottles
As plastic pollution soars, companies are trying to get their milk to consumers with the smallest environmental footprint possible.
Regardless of how milk is produced, in the U.S. most of it is sold in plastic containers made from virgin high-density polyethylene, also known as HDPE or No. 2 plastic. Nearly two-thirds of milk containers sold in North America are HDPE bottles, followed by cartons (24 percent) and plastic bags (7 percent). In recent years, some dairy companies—including Alexandre Family Farm—are turning to containers made from transparent, sturdy polyethylene terephthalate, which is also known as PET or No. 1 plastic, and commonly used in water bottles.
https://civileats.com/2021/12/14/glass-plastic-pla-dairies-struggle-replace-single-use-bottles-recycling-waste-bioplastics-alexandre-straus/
East Antarctic glacier melting at 70.8bn tonnes a year due to warm sea water
Denman glacier in remote part of the continent could become unstable, possibly contributing to more sea level rise than predicted.
https://agupubs.onlinelibrary.wiley.com/doi/epdf/10.1029/2022GL100460
How a Washington state initiative is creating a just circular economy
NextCycle's programs centered community voices from the beginning.
https://www.greenbiz.com/article/how-washington-initiative-creating-just-circular-economy
Developing a circular food economy
One out of six families near Guelph, Ontario, are food insecure. So why do we throw out over a third of the food that farmers produce?
https://www.country-guide.ca/guide-business/developing-a-circular-food-economy/
Environmental justice voices in the waste and recycling industry
Catch up on these Q&A conversations with experts from the U.S. EPA, Ya Fav Trashman, Detroit Dirt and others on how the industry can play a role in environmental justice efforts
https://www.wastedive.com/news/environmental-justice-waste-recycling-conversations/634075/
Indonesia foresters hope Garuda poachers turn gamekeepers
https://news.mongabay.com/2022/10/indonesia-foresters-hope-garuda-poachers-turn-gamekeepers/
Gluten-free and insect-friendly: buckwheat returns to Dutch farms
A project to revive the crop, once grown across the Netherlands, is boosting pollinators and a renewed interest in the seed
https://www.theguardian.com/environment/2022/oct/14/gluten-free-and-insect-friendly-buckwheat-returns-to-dutch-farms-aoe
https://beyondpesticides.org/dailynewsblog/2022/10/chemical-alterations-in-the-body-from-glyphosate-based-herbicide-during-perinatal-exposure-induces-chronic-liver-injury/
https://www.thenewlede.org/2022/10/secret-paraquat-papers-reveal-corporate-tactics-to-protect-weed-killer-linked-to-parkinsons-disease/
Exposure to environmental toxins may be root of rise in neurological disorders
Doctors warn exposure to omnipresent yet poorly understood chemicals such as microplastics could play a role in dementia
https://www.theguardian.com/us-news/2022/oct/23/environmental-toxins-neurological-disorders-parkinsons-alzheimers
Compostable food waste from music festival adds value to soil at Bilpin's Harvest Farms
https://www.bluemountainsgazette.com.au/story/7948827/compost-success-at-blue-mountains-music-festival/
What California's organics recycling law could mean for the future of landfills
As the state looks to dramatically reduce disposal volumes in the coming years, the shift is prompting new questions about the waste industry's operating model.
https://www.wastedive.com/news/sb-1383-part-6-california-landfill-disposal-business-model/633871/
Canadian companies piloting sustainable cannabis packaging service
https://mjbizdaily.com/canadian-companies-piloting-sustainable-cannabis-packaging-service/
The 'pioneering' closed-loop collaboration behind Mars' sustainable packaging innovation
Mars Inc has unveiled what it describes as a 'key milestone' in its commitment to transition towards a circular economy model where packaging material 'never becomes waste'. FoodNavigator takes a closer look at the collaboration and technology behind Mars' new KIND snack bar packaging.
HTTPS://WWW.FOODNAVIGATOR.COM/ARTICLE/2022/10/20/THE-PIONEERING-CLOSED-LOOP-COLLABORATION-BEHIND-MARS-SUSTAINABLE-PACKAGING-INNOVATION 
This pilot study focusses on EU and US industry associations representing five key sectors with the greatest impact on biodiversity loss, as well as the major cross sector industry association in each region. These are: International Association of Oil and Gas Producers (IOGP), American Petroleum Institute (API), Euracoal, National Mining Association (NMA), Confederation of European Paper Industries (Cepi), American Forest & Paper Association (AF&PA), American Farm Bureau Federation (AFBF), Copa Cogeca, National Fisheries Institute, Europeche, BusinessEurope, and the US Chamber of Commerce. 
The research showed that these industry associations are opposed to almost all major biodiversity-relevant policies and regulations, with 89% of the policy engagement analyzed found to be aimed at blocking progress on addressing biodiversity loss. Although industry associations, especially in the US, appear reluctant to discuss the biodiversity crisis, they are clearly engaged on a wide range of policies with significant impacts on biodiversity loss. 
https://influencemap.org/report/Industry-Associations-Biodiversity-Policy-19612
The 2022 report of the Lancet Countdown on health and climate change: health at the mercy of fossil fuels
https://www.thelancet.com/journals/lancet/article/PIIS0140-6736(22)01540-9/fulltext
The large and growing mortality disadvantage of working-age U.S. adults may partly reflect changes in state policy contexts that have occurred in recent decades. 
Policies that promote gun safety, environmental protections, labor (e.g., minimum wage, paid leave), progressive taxation, and tobacco control are among the potentially important policy opportunities to address increasing working-age mortality at the macrostructural level. The health gains from such policies offer potential collateral benefits to families, the economy, workers, and the health care system. More studies are needed assess how the increasing bundling of state policies into either left-leaning or right-leaning has affected the divergence in population health and mortality across U.S. states.
https://journals.plos.org/plosone/article?id=10.1371/journal.pone.0275466
Mexico to proceed with GMO corn ban, seeks international grain deals
https://www.reuters.com/markets/commodities/exclusive-mexico-proceed-with-gmo-corn-ban-seeks-international-grain-deals-2022-10-27/
Increases in extreme heat from anthropogenic global warming pose alarming risks to human well-being . These risks are particularly acute in the poorest and warmest regions on Earth, located in the tropics, where changes in the tails of the temperature distribution have emerged first.
https://www.science.org/doi/10.1126/sciadv.add3726
Albertson's, Safeway, Von's, ACME, Shaw's/Star Markets: Recyclability of Packaging From Our Store Made Products
https://www.albertsonscompanies.com/our-impact/Recycling-Information/default.aspx
Ellen MacArthur Foundation: Working towards a circular, global vision for plastics
Our vision is a circular economy in which plastic never becomes waste or pollution, and the value of products and materials is retained in the economy.
Plastics' Circular Claims Fall Flat Again
Only 5% of the mountains of plastic waste generated by US households last year was recycled, according to new research by Greenpeace.
Americans discarded 51m tons of wrappers, bottles and bags in 2021 – about 309lb of plastic per person – of which almost 95% ended up in landfills, oceans or scattered in the atmosphere in tiny toxic particles.
Not a single type of plastic packaging in the US meets the definition of recyclable used by either the Federal Trade Commission or the Ellen MacArthur Foundation's new plastic economy initiative, the report found.
Even plastics long considered recyclable – bottles and jugs (PET #1 and HDPE #2) –fall far short of the 30% recycling rate needed to meet the definition of recyclable by the foundation. The reprocessing rate for the rest of the plastics used by millions of people everyday to wrap leftovers, eat takeout or return unwanted online purchases is less than 5%.
https://www.greenpeace.org/usa/reports/circular-claims-fall-flat-again/