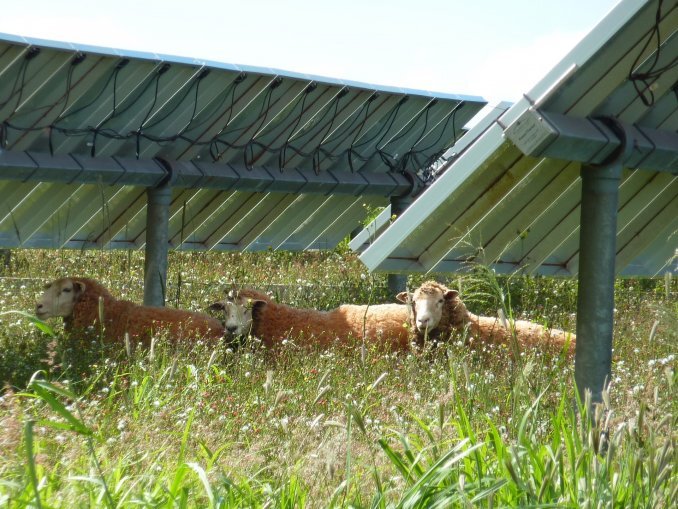 https://www.dailykos.com/stories/2021/10/11/2057534/-Agrovoltaics-Agriculture-Solar-Photovoltaics-Win-For-Everyone
Stella Vita: The newest solar-powered vehicle.
Our Self-sustaining House On Wheels.
https://solarteameindhoven.nl/
Cooking with the sun: Entrepreneurs help launch Mexico's solar revolution
https://news.mongabay.com/2021/10/cooking-with-the-sun-entrepreneurs-help-launch-mexicos-solar-revolution/
Dear editors. You have the power — and the responsibility — to communicate the urgency of the climate crisis. Take it seriously
https://time.com/6111851/greta-thunberg-vanessa-nakate-open-letter-media/
What needs to happen for COP26 to be successful?  (video 5 ½ mins.)
Ahead of COP26, the Foundation's Miranda Schnitger, UK High-Level Climate Action Champion Nigel Topping, and Andrew Griffin from the US State Department share their hopes and expectations for the conference to be a success, as well as the role of the circular economy in fighting climate change. 
https://www.youtube.com/watch?v=IIoUjmNGTs8
Agriculture: Time to rethink farming
https://www.ipe.com/esg/agriculture-time-to-rethink-farming/10055213.article
Organic farming, the only way out
"Organic farming is based on ecological principles of diversity and the circular economy of soil fertility with no external inputs. What is called "conventional farming" is convention of less than a century based on using war chemicals as external inputs to grow monocultures of commodities," 
Dr. Vandana Shiva. 
https://www.sundayobserver.lk/2021/10/31/spectrum/organic-farming-only-way-out
Homage to soil.
Everyone now knows that the soil is one of the world's great carbon banks, actually second only to the oceans in its capacity, and arguably the only element of the Earth's bank of natural capital where changes in farming practice could sequester significant amounts of CO2 out of the atmosphere during the next 10 years.
https://sustainablefoodtrust.org/articles/homage-to-soil/
This profile report is about food and security
– about the impact that food scarcity has on peace, conflict and stability; on infrastructure and society.  The report profiles the critical importance of soil health through the writings of 22 experts – military minds, NGO leaders, scientists and practical farmers.
https://www.foodandsecurity.net/
Growing The Role Of Urban Farming In Dallas County
https://today.tamu.edu/2021/10/27/growing-the-role-of-urban-farming-in-dallas-county/
We're Finally Catching a Break in the Climate Fight
As a new Oxford paper shows, the incredibly rapid fall in the cost of renewables offers hope–but only if movements can push banks and politicians hard enough.
https://billmckibben.substack.com/p/were-finally-catching-a-break-in
Greater than 99% consensus on human caused climate change in the peer-reviewed scientific literature.
Create the Renewable Bonanza.
https://iopscience.iop.org/article/10.1088/1748-9326/ac2966
Systems Transformations Required
to Limit Global Warming to 1.5°C
World Resources Institute: STATE OF CLIMATE ACTION 2021
https://files.wri.org/d8/s3fs-public/2021-10/state_climate_action_2021.pdf?VersionId=7_yAkMO7ZmP156drPZ8LSQ8JM21F_Z1c
Could planting a trillion trees stop global heating? 
This man thinks so.
https://www.theguardian.com/environment/2021/oct/28/could-planting-a-trillion-trees-stop-global-heating-terraformation-yishan-wong
Global Climate Wall
How the world's wealthiest nations prioritise borders over climate action
This report finds that the world's biggest emitters of greenhouse gases are spending, on average, 2.3 times as much on arming their borders as they are on climate finance. This figure is as high as 15 times as much for the worst offenders. This "Global Climate Wall" aims to seal off powerful countries from migrants, rather than addressing the causes of displacement.
https://www.tni.org/en/publication/global-climate-wall
If you want sustainable clothes, focus on the farms
Regenerative farming is trending in fashion, but does it get to the root of the clothing industry's problem? 
https://www.popsci.com/environment/regenerative-farming-fashion/
EMERGING CONTAMINANT ARTICLE
TOPICAL COLLECTION ON PFAS ANALYTICS AND TREATMENT
Identification of point source dischargers of per- and
polyfluoroalkyl substances in the United States.
https://awwa.onlinelibrary.wiley.com/doi/epdf/10.1002/aws2.1252
Chemicals used in packaging may play role in 100,000 US deaths a year – study
Phthalates, also found in consumer goods, may contribute to loss of life among older Americans costing US $40-47bn a year.
https://www.theguardian.com/us-news/2021/oct/14/phthalates-deaths-older-americans-study-chemicals
The New Coal: Plastics and Climate Change.
The U.S. plastics industry's contribution to climate change is on track to exceed that of coal-fired power in this country by 2030.
https://www.beyondplastics.org/plastics-and-climate
COP26 Special Report on Climate Change and Health.
The Health Argument for Climate Action.
"The burning of fossil fuels is killing us," warns the World Health Organization (WHO) report, noting that the practice is "causing millions of premature deaths every year through air pollutants, costing the global economy billions of dollars annually, and fueling the climate crisis."
https://www.who.int/publications/i/item/cop26-special-report
At Climate Talks, Can the World Move from Aspiration to Action?
Negotiators at the Glasgow climate conference will face a critical choice:
Set firm emissions targets for 2030, or settle for goals of achieving "net zero" by 2050?
The course they set could determine if we have a shot at avoiding the worst impacts of climate change.
https://e360.yale.edu/features/at-glasgow-can-the-world-move-from-aspiration-to-action
Ozone Pollution: An Insidious and Growing Threat to Biodiversity
Ground-level ozone has long been known to pose a threat to human health.
Now, scientists are increasingly understanding how this pollutant damages plants and trees, setting off a cascade of impacts that harms everything from soil microbes, to insects, to wildlife.
https://e360.yale.edu/features/ozone-pollution-an-insidious-and-growing-threat-to-biodiversity
The new short film, "Don't Let the Gene Out of the Bottle"
(16 minutes)
https://protectnaturenow.com/shortfilm/
Effect of straw biochar amendment on tobacco growth, soil properties, and rhizosphere bacterial communities.
https://www.nature.com/articles/s41598-021-00168-y
Putting honeybee hives on solar parks could boost the value of UK agriculture 
https://www.lancaster.ac.uk/news/putting-honeybee-hives-on-solar-parks-could-boost-the-value-of-uk-agriculture
After Long Island farmworkers unionize, organizers hope to see others follow
https://prismreports.org/2021/10/21/after-long-island-farmworkers-unionize-organizers-hope-to-see-others-follow/
Forest Farmers
https://news.d.umn.edu/articles/cree-jason-bradley-2021
Visual Feature | Pollution to Solution: Accessing marine litter and plastic pollution
https://www.unep.org/interactive/pollution-to-solution/
'The cusp of a reuse revolution': startups take the waste out of takeout
More than 70% of Americans report ordering takeout or delivery one to three times a week – resulting in hundreds of billions of single-use products
https://www.theguardian.com/us-news/2021/oct/22/takeout-delivery-food-waste-free-reusable-containers-startups
Emissions Gap Report 2021 | UNEP – UN Environment Programme
https://www.unep.org/resources/emissions-gap-report-2021
Regressives & Billionaires Want You To Confuse "Rights of Citizenship" for "Welfare"
While the "safety net" prevents personal, family or community disasters, "rights of citizenship" provide the foundation for society itself
https://hartmannreport.com/p/conservatives-and-billionaires-want
In Conversation with Jane Goodall on Climate Change and Remaining Hopeful
by Richard Schiffman – WashPost 
https://wapo.st/3B7c8or (free)
Imagine a World of Climate Solutions
The Ministry for the Future is a vision of everything we could do to save the planet and ourselves from catastrophic global warming.
YES Magazine –
OK Boomers, Push the U.S. in a Better Direction
by Akaya Windwood & Bill McKibben – LATimes – 
http://enewspaper.latimes.com/infinity/article_share.aspx?guid=db6bfde0-1770-4ced-8773-48be8b30b147 
URI scientists part of team that points to strong connection between climate change, plastics pollution
https://www.uri.edu/news/2021/10/uri-scientists-part-of-team-that-points-to-strong-connection-between-climate-change-plastics-pollution/
Microplastics May Be Cooling—and Heating—Earth's Climate | WIRED
https://www.wired.com/story/microplastics-may-be-cooling-and-heating-earths-climate/
Direct radiative effects of airborne microplastics | Nature
https://www.nature.com/articles/s41586-021-03864-x
Brazil farming co-op carves a sustainable path through agribusiness stronghold
https://news.mongabay.com/2021/10/brazil-farming-co-op-carves-a-sustainable-path-through-agribusiness-stronghold/
Is organic certification enough?
Organic food and beverage sales in the United States soared in 2020,  jumping 12.8% to a new high of $56.4 billion.
https://www.foodbusinessnews.net/articles/19868-is-organic-certification-enough