The mercury doesn't lie: We've hit a troubling climate change milestone (McKibben)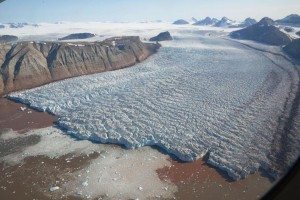 DOMINIQUE FAGET/AFP/GETTY IMAGES/FILE 2015 A view of the Kronebreen Glacier in northern Norway.
https://www.bostonglobe.com/opinion/2016/03/04/why-degree-temperature-jump-more-important-than-trump-hands/lCyz5MHZkH8aD0HIDJrcYJ/story.html
Bill McKibben is the founder of the climate campaign 350.org, and the Schumann Distinguished Scholar in Environmental Studies at Middlebury College.
---
CIRCULAR ECONOMY OFFERS "WEALTH OF OPPORTUNITY FOR U.S."
http://circulatenews.org/2016/02/circular-economy-offers-wealth-of-opportunity-for-u-s/
---
Can Large Companies Lead The Low-Carbon Revolution?
The dismissal of a green advocate at a major energy corporation and other recent developments raise a critical question: Are big companies too invested in the status quo to be trailblazers in the quest to wean the global economy off fossil fuels?
http://e360.yale.edu/feature/can_large_companies_lead_the_low-carbon_revolution/2956/
"Christensen argues that firms with a big stake in the status quo tend to focus on current customer needs, revenues, and business models, and fail to adapt to new technologies or models designed to meet the future needs of customers."
---
Carbon Farming: Fighting Climate Change with Regenerative Agriculture
http://www.gracelinks.org/blog/6708/carbon-farming-fighting-climate-change-with-regenerative-ag
---
Berkeley Votes to Boost Co-op Economy In the Face of Gentrification
A growing number of cities are investing in co-ops to keep money local and neighborhoods affordable.
http://www.yesmagazine.org/commonomics/berkeley-votes-to-boost-co-op-economy-in-the-face-of-gentrification-20160224
---
European Parliament opposes import of three herbicide-resistant GM crops
eco-business.com
The World Health Organization (WHO) has classified glyphosate as a … national governments a theoretical right to ban GMOs approved for import.
http://www.eco-business.com/news/european-parliament-opposes-import-of-three-herbicide-resistant-gm-crops/
---
Anatomy of a Newsweek Valentine to the Anti-GMO Movement
http://www.huffingtonpost.com/julie-kelly/newweeks-onesided-valenti_b_9195502.html?utm_hp_ref=science&ir=Science
---
Trends in glyphosate herbicide use in the United States and globally
http://enveurope.springeropen.com/articles/10.1186/s12302-016-0070-0
---
'MOTH EYE' GRAPHENE BREAKTHROUGH COULD CREATE INDOOR SOLAR CELLS
http://www.newsweek.com/indoor-solar-cells-made-possible-moth-eye-graphene-breakthrough-430827?rx=us
---
CLIMATE CHANGE IS SHIFTING NATURAL RESOURCES AND WEALTH ALONG WITH IT
http://www.newsweek.com/climate-change-will-shift-natural-resources-creating-430910?rel=most_read5
---
---
---
FDA Finally Agrees To Test Food For Monsanto's Glyphosate Weedkiller
The World Health Organization has declared the herbicide, widely used in farming, a probable carcinogen in humans.
http://www.huffingtonpost.com/entry/fda-glyphosate_us_56c4f815e4b0b40245c8f15b?utm_hp_ref=tw
---
Clean Power Could Actually Save US Billions Of Dollars Each Year
http://www.manufacturing.net/news/2016/02/clean-power-could-actually-save-us-billions-dollars-each-year
---
Like Knowing If GMOs Are In Your Food?  Congress Is Trying To Make That Harder
2,000 chefs, led by Tom Colicchio, just let D.C. know what they think about that.
http://www.huffingtonpost.com/entry/gmo-labeling-senate-bill-chef-petition_us_56cf52f5e4b0bf0dab3136f9?utm_hp_ref=tw
---
295,000 US deaths may be prevented by 2030 with cuts to greenhouse gas
New paper finds that Americans who would otherwise die from lung cancer, heart attacks or respiratory diseases would be saved by reduction in air pollution
http://www.theguardian.com/environment/2016/feb/22/us-deaths-greenhouse-gas-295000-emission-cuts-climate-change?CMP=Share_AndroidApp_Gmail
---
University of Chicago professors urge fossil fuel divestment over climate change fears
http://www.theguardian.com/us-news/2016/feb/22/university-chicago-divest-fossil-fuel-professors-climate-change?CMP=Share_AndroidApp_Gmail
---
The Koch Brothers' Dirty War on Solar Power
All over the country, the Kochs and utilities have been blocking solar initiatives — but nowhere more so than in Florida
http://www.rollingstone.com/politics/news/the-koch-brothers-dirty-war-on-solar-power-20160211#ixzz402To4siE
---
Global virus pandemic in honeybees is manmade, not natural
http://perfscience.com/content/2143201-global-virus-pandemic-honeybees-manmade-not-natural
---
"Big data" comes to chemical testing – How to ensure more is better
http://blogs.edf.org/health/2016/02/24/big-data-comes-to-chemical-testing-how-to-ensure-more-is-better/#more-4884
---
Four billion people facing severe water scarcity
http://advances.sciencemag.org/content/2/2/e1500323.full
---
From Food To Flowers: The Push For Supply Chain Transparency
http://techcrunch.com/2016/02/18/from-food-to-flowers-the-push-for-supply-chain-transparency/
---
The Atlantic Ocean Is Acidifying At A Rapid Rate –
http://www.huffingtonpost.com/entry/atlantic-ocean-acification_us_56b30e5ae4b08069c7a624df?utm_hp_ref=tw
---
---
---
100% Renewable Energy: What We Can Do in 10 Years
It will take at least three decades to completely leave behind fossil fuels. But we can do it. And the first step is to start with the easy stuff.
http://www.yesmagazine.org/issues/life-after-oil/100-renewable-energy-what-we-can-do-in-10-years-20160222
---
Why We Need to Keep 80 Percent of Fossil Fuels in the Ground
Life depends on it. Bill McKibben on the big changes we've already made in remarkably short order.
http://www.yesmagazine.org/issues/life-after-oil/why-we-need-to-keep-80-percent-of-fossil-fuels-in-the-ground-20160215/