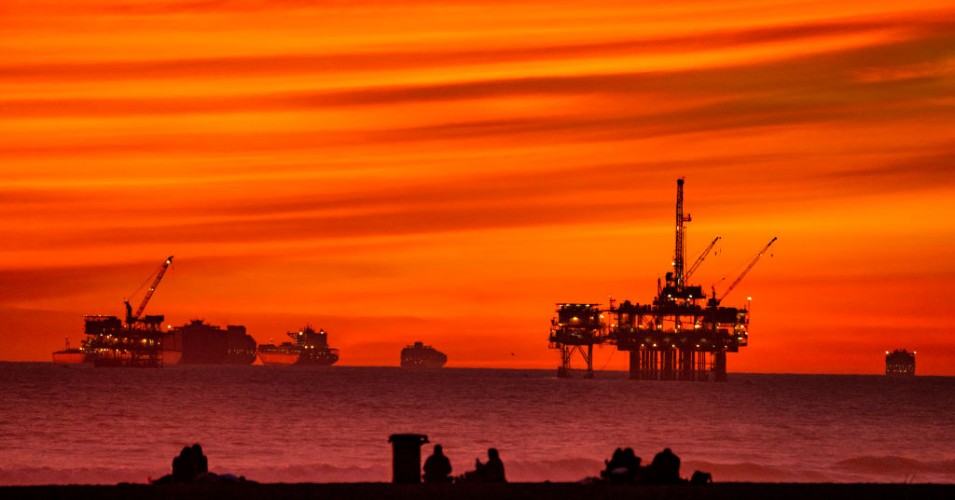 The Most Colossal Planning Failure in Human History
We have built up civilization to a scale that can temporarily be supported by finite and polluting energy sources, and we have simply assumed that this scale of activity can continue to be supported by other energy sources that haven't yet been developed or substantially deployed.
https://www.commondreams.org/views/2021/05/19/most-colossal-planning-failure-human-history
---
Nasa leads push for electric planes in next frontier of cutting emissions
Flying on batteries presents major technological challenges but companies will be demonstrating their best efforts over the next year in California
"For that regional aviation, commuter planes, it's a no-brainer. I think by the early 2030s we'll be able to deliver electrified planes that are larger and higher-performance and for the very big planes, some sort of hybrid."
https://www.theguardian.com/us-news/2021/may/18/electric-planes-nasa-carbon-emissions
---
Who Funds the Climate Crisis?
For fossil fuel companies, what drives their profit is ownership of carbon in the ground. That's why they have spent billions of dollars stoking the climate denial industry and fighting regulations.
https://www.commondreams.org/views/2021/05/14/who-funds-climate-crisis
---
Plastic Waste
Makers Index
Revealing the source of the single-use plastics crisis
https://www.minderoo.org/plastic-waste-makers-index/
---
Net Zero by 2050
A Roadmap for the Global Energy Sector 
This special report is the world's first comprehensive study of how to transition to a net zero energy system by 2050 while ensuring stable and affordable energy supplies, providing universal energy access, and enabling robust economic growth. It sets out a cost-effective and economically productive pathway, resulting in a clean, dynamic and resilient energy economy dominated by renewables like solar and wind instead of fossil fuels. The report also examines key uncertainties, such as the roles of bioenergy, carbon capture and behavioural changes in reaching net zero. 
https://www.iea.org/reports/net-zero-by-2050
---
IEA's first 1.5°C model closes the door on new fossil fuel extraction
https://priceofoil.org/2021/05/18/iea-1-5c-model-closes-door-on-new-fossil-fuel-extraction/
---
Last hope over climate crisis requires end to coal, says Alok Sharma
President-designate of Cop26 talks says tackling the fossil fuel is 'a personal priority'
https://www.theguardian.com/environment/2021/may/14/last-hope-over-climate-crisis-requires-end-to-coal-says-alok-sharma
---
Startups Looking to Change the Snack Industry with Planet-Forward Options
https://foodtank.com/news/2021/05/startups-looking-to-change-the-snack-industry-with-planet-forward-options/
---
---
How USDA can leverage a carbon bank for farmers, foresters and the climate
http://blogs.edf.org/growingreturns/2021/05/14/usda-carbon-bank-farmers-foresters/
---
New Tool Helps Farmers in North America Create Millions of Potential Carbon Offsets
https://www.environmentalleader.com/2021/05/new-tool-helps-farmers-in-north-america-create-millions-of-potential-carbon-offsets/
---
Billions for Farmers of Color Isn't Racist – It's Smart and Long Overdue
The failures of the food system during the pandemic showed us that the corporate-consolidated mode of farming inflexible and wasteful.
You should also be aware that the Biden administration is being sued by several white farmers for racial discrimination – not for the government's past actions against people of color, but because the current administration is making an effort to address racism and the historic inequalities inflicted on people of color by the USDA.
https://www.commondreams.org/views/2021/05/15/billions-farmers-color-isnt-racist-its-smart-and-long-overdue
---
Purpose At Work: How Urban Remedy Is Accelerating Growth By Democratizing Healthy Food
https://www.forbes.com/sites/simonmainwaring/2021/05/27/purpose-at-work-how-urban-remedy-is-accelerating-growth-by-democratizing-healthy-food
---
Nature funding must triple by 2030 to protect land, wildlife and climate
https://www.reuters.com/legal/litigation/nature-funding-must-triple-by-2030-protect-land-wildlife-climate-2021-05-27/
---
Alice Waters on the Meaning of "Slow Food," and Getting Everyone Involved in Regenerative Farming
https://www.vogue.com/article/alice-waters-on-the-meaning-of-slow-food-regenerative-farming
---
Natural Food Retailers Reveal Top Traffic-Driving Trends
How 7 indies are differentiating in a competitive marketplace
https://www.winsightgrocerybusiness.com/retailers/natural-food-retailers-reveal-top-traffic-driving-trends
---
Environmental nonprofit acquires 1,000-acre Santa Barbara ranch for regenerative agriculture center 
https://www.kcbx.org/post/environmental-nonprofit-acquires-1000-acre-santa-barbara-ranch-regenerative-agriculture-center#stream/0
---
Working with Mother Nature: Crop diversity, rotational grazing improve production 
https://www.riverfallsjournal.com/business/working-with-mother-nature-crop-diversity-rotational-grazing-improve-production/article_cb466f09-1c9d-5c95-9507-2997eb7400f9.html
---
https://beyondpesticides.org/dailynewsblog/2021/05/take-action-ensure-regenerative-agriculture-incorporates-organic-standards-in-order-to-fight-climate-change/
---
Inside The Rudrapada Estate, a remote organic farm near the hill station of Kodaikanal
At the heart of this 20-acre farm is a contemporary take on the traditional plantation house, designed by Niels Schoenfelder of Mancini Enterprises
https://www.architecturaldigest.in/story/inside-the-rudrapada-estate-a-remote-organic-farm-near-the-hill-station-of-kodaikanal/
---
ARCTIC CLIMATE CHANGE UPDATE 2021:KEY TRENDS AND IMPACTS
SUMMARY FOR POLICY-MAKERS
ARCTIC MONITORING & ASSESSMENT PROGRAMME
https://www.amap.no/documents/download/6730/inline
---
Mexico Wants to Import Non-GMO Corn and US Farmers Say They Can Deliver It
Mexico's GMO corn ban presents an opportunity for U.S. farmers to supply non-GMO corn south of the border.
https://www.commondreams.org/views/2021/05/22/mexico-wants-import-non-gmo-corn-and-us-farmers-say-they-can-deliver-it
---
Report: EPA Deviated from Typical Procedures in Its 2018 Dicamba Pesticide Registration Decision
https://www.epa.gov/office-inspector-general/report-epa-deviated-typical-procedures-its-2018-dicamba-pesticide
---
Outrage as regulators let pesticides from factory pollute US town for years
https://www.theguardian.com/us-news/2021/may/29/environmental-catastrophe-mead-nebraska
---
How settlers, scientists, and a women-led industry saved Brazil's rarest primate
https://news.mongabay.com/2021/05/how-settlers-scientists-and-a-women-led-industry-saved-brazils-rarest-primate/
---
Climate policies, transition risk, and financial stability – 2021 – IIASA
https://iiasa.ac.at/web/home/about/210517-financial-stability-and-climate-change.html
---
Greenland Becoming Darker, Warmer as Snow Changes 
https://news.dartmouth.edu/news/2021/05/changing-weather-and-snow-making-greenland-warmer-darker
---
Pollutants rapidly seeping into drinking water 
https://www.pr.uni-freiburg.de/pm-en/press-releases-2021/pollutants-rapidly-seeping-into-drinking-water
---
"A generational historic struggle to regain our water" 
https://ensia.com/features/water-rights-gila-river-indian-community-native-american-american-west/
---
Greenhouse gas and aerosol emissions are lengthening and intensifying droughts
https://news.uci.edu/2021/05/17/greenhouse-gas-and-aerosol-emissions-are-lengthening-and-intensifying-droughts/
---
As the rest of world tackles plastics disposal, the U.S. resists
https://news.mongabay.com/2021/05/as-the-rest-of-world-tackles-plastics-disposal-the-u-s-resists/
---
Vision for ultra-precision agriculture includes machine-learning enabled sensing, modeling, robots tending crops
https://www.news.iastate.edu/news/2021/04/29/coalesce
---
White roofs and more green areas would mitigate the effects of heat waves in cities
https://www.uab.cat/web/newsroom/news-detail/white-roofs-and-more-green-areas-would-mitigate-the-effects-of-heat-waves-in-cities-1345668003610.html
---
Intensive agriculture could drive loss of bees and other tropical pollinators
https://www.ucl.ac.uk/news/2021/may/intensive-agriculture-could-drive-loss-bees-and-other-tropical-pollinators