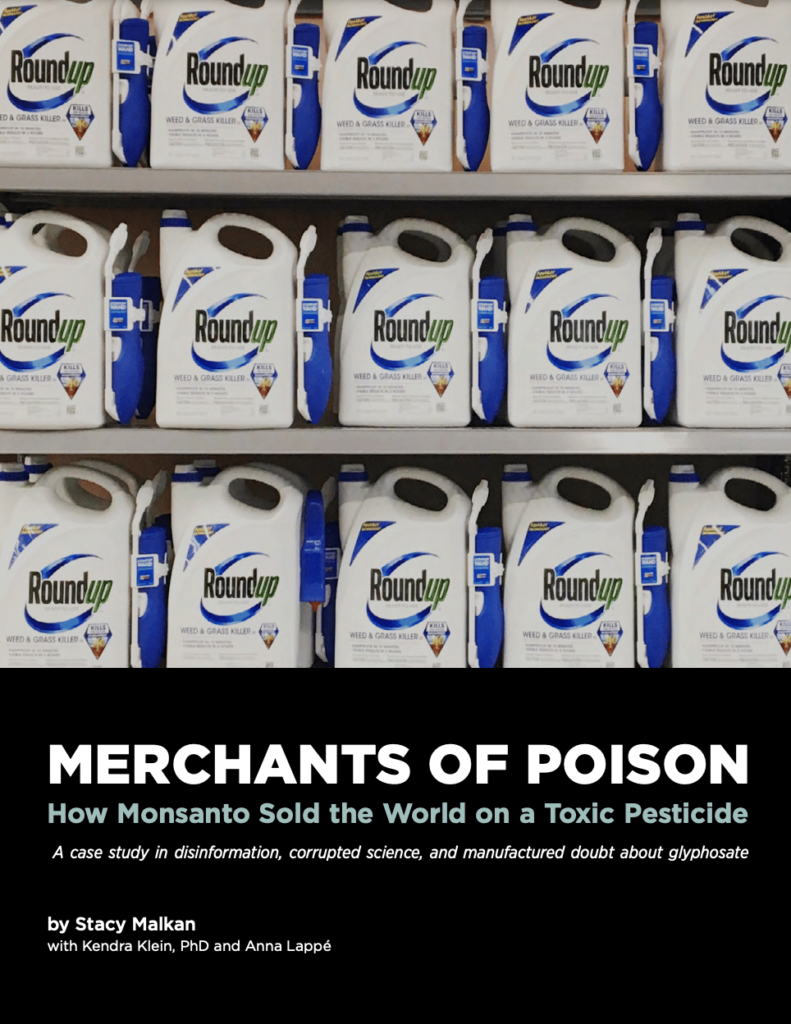 New Report Reveals Pesticide Industry's Disinformation and Science Denial Playbook
Monsanto's Tactics to Defend Toxic Weedkiller Glyphosate Exposed
https://foe.org/news/merchants-of-poison/
2022 Sustainability Report
Tetra Pak U.S. and Canada
https://indd.adobe.com/view/6f0d097c-49cc-465a-9d81-fbe99c675296
An Indigenous reservation has a novel way to grow food – below the earth's surface
Underground greenhouses are helping people to take back control of their nutrition and ease farming amid the climate crisis
https://www.theguardian.com/environment/2022/dec/03/south-dakota-reservation-food-desert-residents-transforming-crop-oasis
Scientists develop smartwatch-like health trackers for cows
Wearable devices powered by kinetic energy of cows will gather data to help track cattle wellbeing
https://www.theguardian.com/environment/2022/dec/01/scientists-develop-motion-powered-health-monitors-for-cows
From Farm to School Table: Circular Economy Solutions
Michigan communities are creating an effective local circular economy by linking schools to local farms and Native American tribes – connecting the dots between locally produced food and children's nutritional health
https://impakter.com/from-farm-to-school-table-circular-economy-solutions/
Companies with over $1 trillion in annual revenue report the reduction of 83 million pounds/38 million kilograms of hazardous chemicals in the 6th Chemical Footprint Project Report
https://www.chemicalfootprint.org/resources/entry/6th-cfp-report
'It made my heart sing': finding herbs and medicine in the Bronx food forest
https://www.theguardian.com/lifeandstyle/2022/dec/15/new-york-foraging-bronx-river-foodway
Security For All:

Demilitarizing Our Climate Narratives Climate action advocates are increasingly arguing that climate change is a national security issue. 
This "securitization" of climate change includes efforts to highlight specific security threats posed by a rapidly warming planet, as well as a broader messaging strategy that employs metaphors of war and military action to describe the climate crisis (e.g. calling for a "wartime mobilization" to rapidly deploy clean energy technology). These approaches have gained traction with advocacy organizations, leading thinkers, and the Biden administration, particularly in the wake of Russia's invasion of Ukraine.
https://commondefense.us/climate-briefing-2022/
Portland's circular economy is primed for success. 
Can it offer a blueprint for the rest of us?
https://www.shareable.net/portlands-circular-economy-is-primed-for-success-can-it-offer-a-blueprint-for-the-rest-of-us/
Council of the Great Lakes Region releases plan to reduce plastic waste 
The plan provides a roadmap for pursuing policies, consumer behavior changes, investments in collection and more.
https://www.recyclingtoday.com/article/council-great-lakes-region-releases-plan-to-reduce-plastic-waste/
Collaboration and circular economy building
https://www.cemnet.com/News/story/173949/collaboration-and-circular-economy-building.html
To get serious on the circular economy, upend how global business works.
Reducing our waste's impact on the planet requires new technology and materials — and, more importantly, a complete rethink of how we incentivize the production and use of resources.
https://www.nature.com/articles/d41586-022-04330-y
Sowing a Plastic Planet: How Microplastics in Agrochemicals Are Affecting Our Soils, Our Food, and Our Future 
We are increasingly living on a plastic planet. Due to the explosion in plastic production and use, plastic pollution has grown exponentially in recent years. Tiny particles of plastic — or microplastic — are accumulating across the planet in even the most remote areas, in the air, in water, in soil, in plants, and in animals, including in our bodies. Humans are ingesting and breathing plastics and the toxins they contain through this continued environmental exposure. 
https://www.ciel.org/reports/microplastics-in-agrochemicals/
How agroforestry can restore degraded lands and provide income in the Amazon
https://news.mongabay.com/2022/12/how-agroforestry-can-restore-degraded-lands-and-provide-income-in-the-amazon/
Ahead of the last round of CBD negotiations before the UN Biodiversity Conference COP15,

The B Team
and
Business for Nature
launch a joint brief called "
Financing Our Survival: Building a Nature-Positive Economy through Subsidy Reform
".
It summarizes the key messages from
a
study by subsidy experts
Doug Koplow and Ronald Steenblik and aims to inform government and business decision making on Environmentally Harmful Subsidy (EHS) reform.  
Reform $1.8 trillion yearly environmentally harmful subsidies to deliver a nature-positive economy
https://www.businessfornature.org/news/subsidy-reform
2022 CALIFORNIA SCOPING PLAN FOR ACHIEVING
CARBON NEUTRALITY
NOVEMBER 16, 2022
https://ww2.arb.ca.gov/sites/default/files/2022-11/2022-sp.pdf
and
https://www.commondreams.org/news/2022/12/16/california-approves-blueprint-become-carbon-neutral-2045
In the Southeast, power company money flows to news sites that attack their critics
https://www.npr.org/2022/12/19/1143753129/power-companies-florida-alabama-media-investigation-consulting-firm
Puerto Rican cities sue fossil fuel companies in major class-action, climate fraud case
Municipalities aim to hold industry liable for damages from catastrophic 2017 hurricanes.
https://www.nationofchange.org/2022/12/06/puerto-rican-cities-sue-fossil-fuel-companies-in-major-class-action-climate-fraud-case%ef%bf%bc/
Coffee capsules: Brewing up an (in)convenient storm of waste
Coffee capsules are now ubiquitous: By 2025, the global market for the product is expected to grow to more than $29 billion.
These mostly plastic pods are currently popular in Europe and North America, but research predicts their popularity is likely to grow in markets in Asia, particularly China and South Korea.
As the global market for coffee capsules grows, so does the waste associated with it: The global footprint of annual coffee capsule waste is about 576,000 metric tons — the combined weight of about 4,400 school buses.
Responding to pressure from environmental campaigns like "Kill the K-Cup," coffee companies have developed capsules made from aluminum or compostable fiber; but progress to ensure that coffee pods don't contribute to more pollution is still moving at a glacial pace.
https://news.mongabay.com/2022/12/coffee-capsules-brewing-up-an-inconvenient-storm-of-waste/
In extreme weather, organic farming produces higher yields, report says
https://www.thepacker.com/news/organic/extreme-weather-organic-farming-produces-higher-yields-report-says
Pesticide industry disinformation: What's at stake? Health, climate, biodiversity
"The point of modern propaganda isn't only to misinform or push an agenda. It is to exhaust your critical thinking, to annihilate truth." — Garry Kasparov
https://usrtk.org/industry-pr/pesticide-industry-disinformation-whats-at-stake-health-climate-and-biodiversity/
From Climate Justice to Climate Liability
The recent COP27 climate conference in Sharm El-Sheikh was a disappointment on many counts.
But by securing the developed world's acknowledgement that it bears some responsibility for the global costs
of climate change, this COP could one day be remembered as a major turning point.
https://www.project-syndicate.org/commentary/cop27-loss-and-damage-agreement-allows-for-climate-liability-by-nick-butler-1-2022-12
A Koch-funded legal group is suing the state of California to protect the medical licenses of doctors who promote quack cures for Covid-19.
https://www.exposedbycmd.org/2022/12/21/koch-funded-litigation-group-fights-to-protect-covid-misinformation/
Lawsuits against the plastics industry for health and environmental harm could exceed $20 billion by 2030.
A new study warns investors and insurers that plastic pollution is costing society $100 billion per year and litigation is coming.
https://www.ehn.org/plastic-pollution-lawsuits-2658587064.html
Pennsylvania Lets Polluter Resume Drilling in Protected Zone, Outraging Residents in Fracking's 'Ground Zero'.
Order was quietly signed on the same day that residents celebrated the energy company's plea deal on charges of environmental crimes.
https://capitalandmain.com/pennsylvania-lets-polluter-resume-drilling-in-protected-zone-outraging-residents-in-frackings-ground-zero
How Global Warming Makes it Freezing Cold.
Last Friday, with this recent bomb cyclone, 53.7% of the nation was covered in snow; more than any time since record-keeping began
— As the oil industry knowingly lies to us and rakes in profits.
https://hartmannreport.com/p/how-global-warming-makes-it-freezing
California has to become carbon-neutral by 2045. What does that mean for natural gas?
https://www.sacbee.com/opinion/op-ed/article269641191.html
Why Cover Crops Are the Solution to Rapid Soil Degradation
https://foodtank.com/news/2022/12/why-cover-crops-are-the-solution-to-rapid-soil-degradation/
Recommended Measurements for Scaling Soil Health Assessment – Soil Health Institute
https://soilhealthinstitute.org/our-work/initiatives/measurements/
How Do You Measure Soil Health? 21 Methods to Consider
https://www.holganix.com/blog/how-do-you-measure-soil-health-21-methods-to-consider
Is your soil health improving? Metrics for assessing soil health over time
https://blog-fruit-vegetable-ipm.extension.umn.edu/2022/03/is-your-soil-health-improving-metrics.html
3M to stop making toxic chemicals?
https://www.cnn.com/2022/12/20/business/3m-forever-chemicals-elimination/index.html
UN Secretary-General António Guterres calls for Climate Ambition Summit in September 2023.
https://www.un.org/sg/en/content/sg/speeches/2022-12-19/secretary-generals-opening-remarks-end-of-year-press-conference%C2%A0